Arenal Volcano National Park
Arenal Volcano National Park is located in northwest Costa Rica, between the foothills of the Cordillera de Tilarán and the plains of San Carlos. At the foot of the volcano is the small town of La Fortuna, a natural tourist attraction with a view of the colossus.

A colossus dominates: the Arenal volcano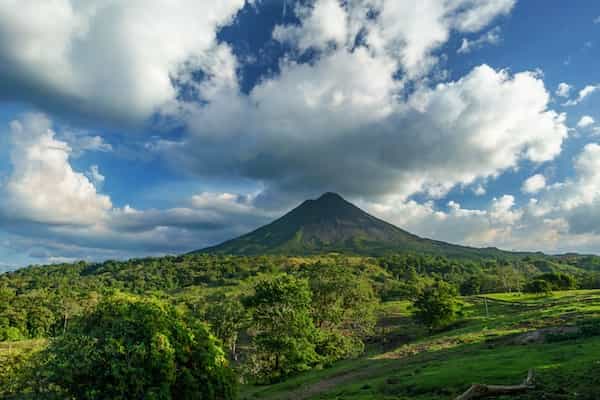 The special feature of Arenal Volcano National Park is the impressive and majestic volcano of the same name: an almost perfect cone 1,633 m high, whose regular eruptions offer one of Costa Rica's most extraordinary and impressive natural landscapes.
Arenal is a young stratovolcano, first erupting 7,000 years ago, making it the youngest volcano in Costa Rica.
In addition to lava flows, the volcano regularly produces fiery clouds. Before July 1968, Arenal was considered an extinct volcano. On July 29, 68, 3 craters (A, B and C) opened in an explosion, triggering a high-intensity pyroclastic flow that devastated the area over a 12 km radius and killed 87 people. Periods of intense activity, followed by periods of lower activity, have made it a tourist attraction.
Since December 2010, the Arenal volcano has entered a resting phase, but is still active. Lava outpourings have ceased, but fiery clouds and gas emissions continue to demonstrate this activity, and experts are far from believing that the volcano is going back to sleep, contrary to what we read here and there. Volcanologists and the OVSICORI (Costa Rica's vulcanological and seismological observatory) are still warning of the continuing high volcanic risk, based on acid rain measurements, sampling and seismic monitoring. For scientific, verified and official information: Costa Rican Vulcanological and Seismological Observatory.
The flora of Arenal Volcano National Park
The park boasts a wide variety of flora and fauna: transitional rainforest, montane rainforest, transitional lower montane rainforest and transitional premontane, covering around 47% of the area.
These include bush guava, ceiba or cheese tree, ficus, guarumo or cecropia obtusifolia, balsa, various palm species, orchids, ferns and bromeliads, including endemic species such as pitcaimia funkiae.
Wildlife in Arenal Volcano National Park
The fauna that inhabits these forests is essentially tapir, coati, sloth, deer, and numerous reptiles such as the terciopelo (or fer-de-lance), lora (or chironius carinatus) and boa.
Birdwatchers are particularly fond of this region, where there is a huge variety of birds (53% of the country's species), including parrots, the Finsh's or Aztec conure, the Touit Costaricensis, hummingbirds, quetzals and the Great Tinamou, Bonaparte's Tinamou, Blue-winged Teal, Grey-headed Ortalid, Variegated Penelope, Unicolored Penelope, Superb Frigate, Mexican Walleye, American Tantalus, Cayenne Kite, Sparrowhawks, Laughing Macagua, Caranea Aramid, etc.
The lake, at the foot of Arenal Volcano National Park, is a reservoir used to generate hydroelectric and agricultural energy for the region.
Tourism around the volcano and lake has been growing for several years, and in addition to volcano-watching, the hot springs, canyoning, rafting and hiking attract many visitors every year.
A few more indications.