Our travel agency, a company in Costa Rica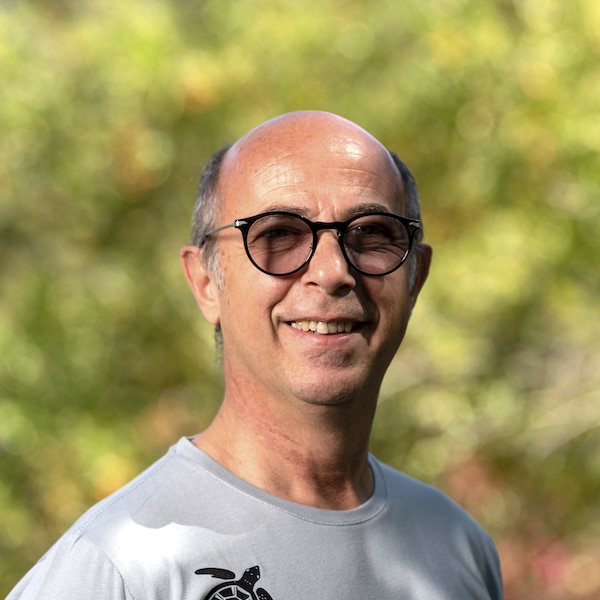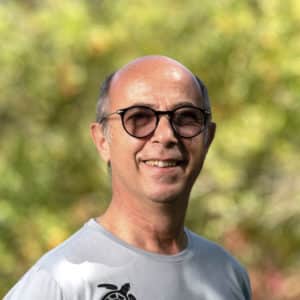 The central pillar of the agency for a united team. This huge man of small stature is undoubtedly the king of los juegos de palabras (puns for the less Spanish-speaking among us). As agency manager and salesman, he knows every nook and cranny of Costa Rica, and will generously share all his secrets with you. Together with Anne, he has built Costa Rica Découverte into a dynamic, innovative company where good living is the watchword. Pierre has retained the seriousness and meticulous workmanship of the French, while adopting Pura Vida as his rule of life. You'll enjoy preparing your vacation with him almost as much as the vacation itself (without exaggerating too much). In a nutshell, he's the "Pierrinity" of Costa Rica Découverte.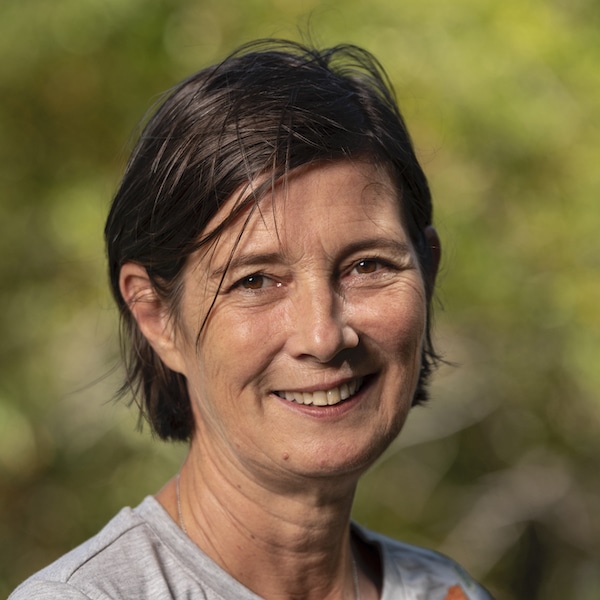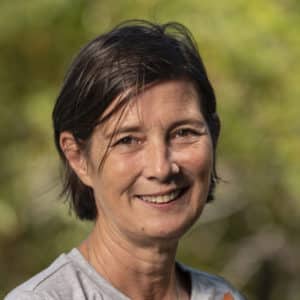 Anne runs the agency like a mother. She's the core of the company, solving all our little and big problems. Caring and attentive, she's also the one who feeds the social networks to make you dream before you even set foot on our beloved Costa Rican soil. She's always on the lookout for new trends, constantly on the hunt for little havens of peace to offer you the best possible experience during your vacation with us. Her versatility enables her to support all team members in all their missions. As Pierre might say, she's the "Ann-imation" of the company.
Arnaud is the son of Anne and Pierre, the founders of the agency. After studying political science in France, he joined his parents in Costa Rica, where he learned the rudiments of a travel agency and set off to discover the country. His steps then led him further north, to Mexico, where he settled while continuing to work for the family business, writing the blog for the constantly evolving website.
His writing skills and acerbic judgement make the blog's articles an undeniable asset and an inexhaustible source of information for readers wishing to learn about the country in a different way. A sure bet.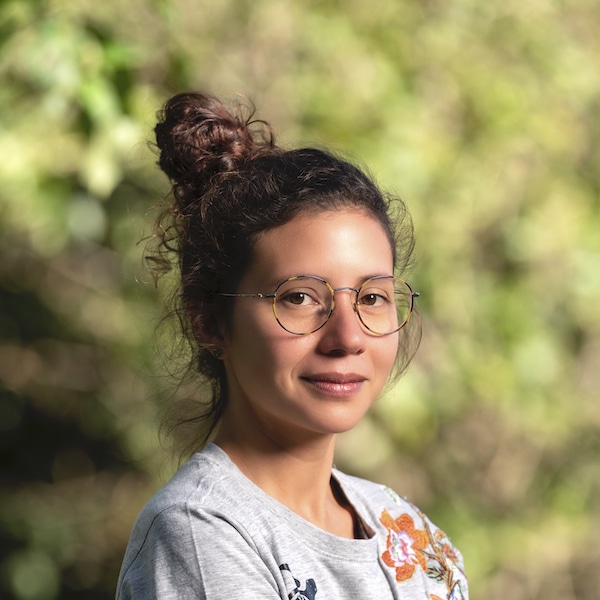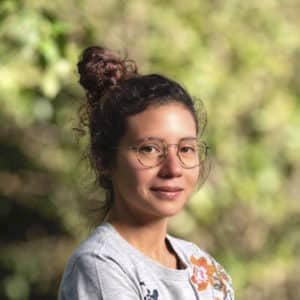 Venezuelan by birth, at 23 she sets out to conquer France. There she met Simon, the man she'd fallen in love with in Paris… No, no, no, that's not the pitch for a romantic film.
After learning the language of Molière, she went on to study literature and civilization in Grenoble. After 9 years and a few years teaching Spanish, she and Simon decided to join some of Adri's family in Costa Rica. As soon as she arrived, she started looking for a job and landed at Costa Rica Découverte, where she is in charge of managing supplier invoices to ensure they are in order.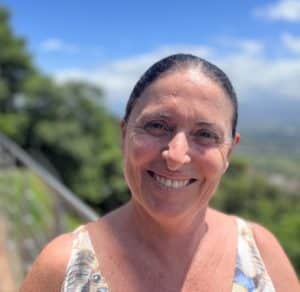 53 years old, French and Costa Rican, Sandrine has been living in Costa Rica for almost 20 years.
Mother of 2 grown-up children, she has had an atypical career.
A flight attendant on United Airlines for several years, she then moved to Costa Rica and worked as a consular agent at the French Embassy in San José, assistant to the embassy's first counselor, before joining her husband who had just set up his own business.
It was also a way to better follow her children's education.
She joined our team in 2021, and loves taking care of your reservations, finding solutions to any problems you may have, and negotiating rates and services.
In addition to her great qualities at Costa Rica Découverte, Sandrine is also an excellent cook. La cocina de Sandrine allows her to showcase her talents, particularly when it comes to pastries.
Her cannelés and apple tarts are a hit when she arrives at the agency with such sweets.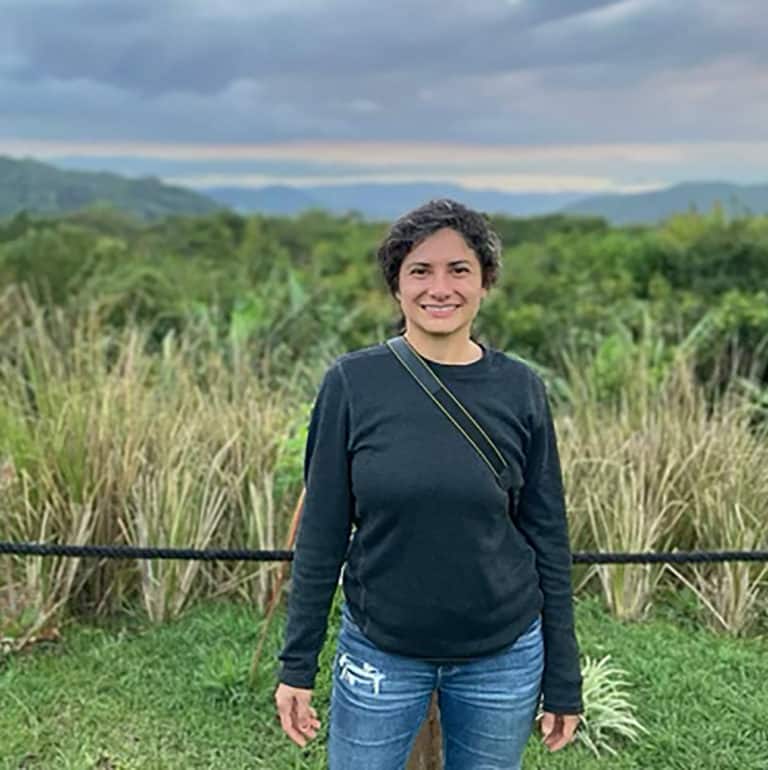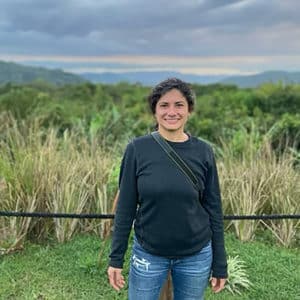 Kimberly is our latest recruit. She's in charge of chasing invoices and paying suppliers. It's a painstaking task that gives us peace of mind. If we get a call from a supplier who hasn't registered our payment, we know we can confirm that they've been paid. It's a job that requires tenacity and organization, both of which she excels at.
Outside work, she's also a yoga teacher, and some of us don't hesitate to take advantage of her services. Relaxation, yoga, breathing, the panoply of these qualities is vast.
She's the only non-French speaker on the team, but she's diligent and takes French lessons, so that little by little she understands the puns and bad jokes we sometimes hear in the agency.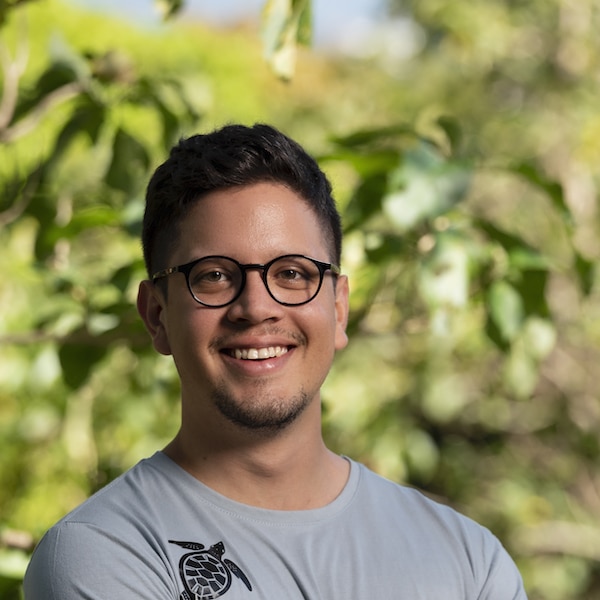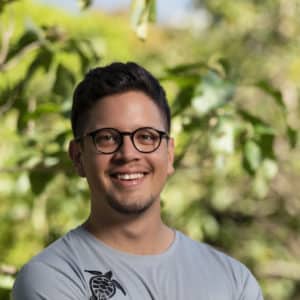 Here's an incredible Tico! Juan Bautista – JuanBa to his friends – learned French without even going to France, and with a gift for languages, he knows the words of Brassens and Brel, among others, by heart. A fan of French culture, he eats breakfast listening to France Inter!
After a first experience in tourism, he decided to join us, because we are the best 🙂
Arriving at CRD in July 2019, he is in charge of our customers' travel arrangements and perfectly supports the sales team.
Obviously, knowing his country like the back of his hand, he'll be delighted to share his knowledge.
His diverse experience in the tourism industry, his good humor and his ability to work with others have helped him to integrate quickly.
His favorite activities: dancing, singing, music, cooking – in short, the ideal collaborator!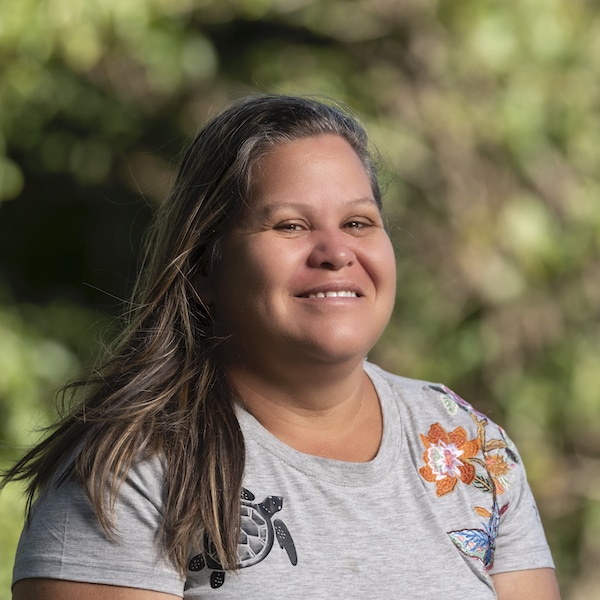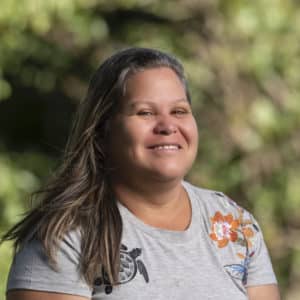 You're probably thinking: how do these French people, far from France, survive without our world-famous dishes?
Our secret: Rosa, our favorite Tica, the agency's chief housekeeper.
She prepares the best lunches for us every day, so that we can all enjoy the French and Ticas specialities together, and regain our strength before returning to our hard work.
It's a real moment of complicity and fun. We particularly enjoy it when she sings a song while cooking, or makes our workplace a fresh and jovial place to be.
Our first male trainee, he was quickly and unanimously adopted by the entire Costa Rica Découverte team.
After a short detour to Canada and a return to France, he's back in Costa Rica.
His freelance status gives him the independence he needs.
He is in charge of monitoring, maintaining and improving the company's IT and management tools.
A real gem, he helps us optimize our work and avoid many mistakes.
His eternal good humor and adaptability are his main qualities.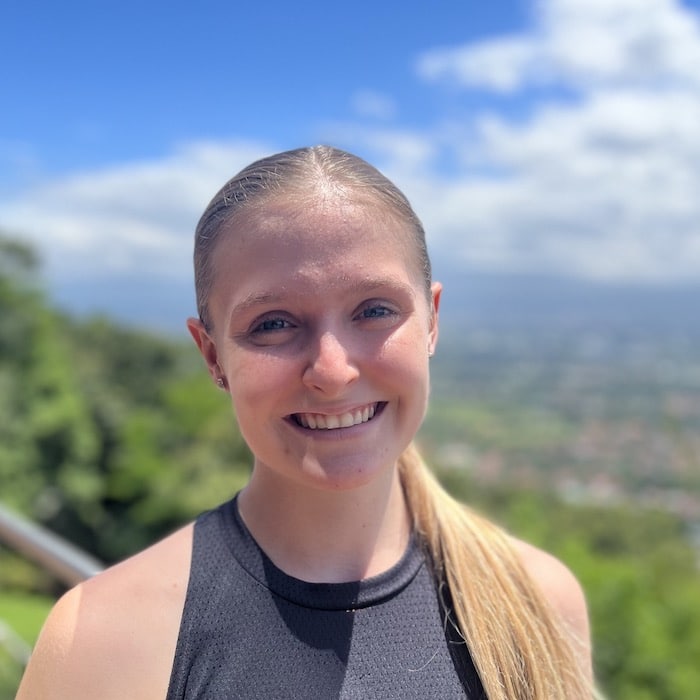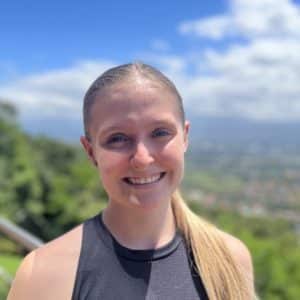 Steffy is first and foremost Sandrine's daughter, but she's also Costa Rica Découverte's champion.
Indeed, 8 years in a row, she was ranked number 1 in Costa Rica in women's tennis. In some years, she was number one in 2 age groups!
But her talents don't stop there.
She had an exemplary education, and thanks to her impressive grades, won a scholarship to continue her studies at the prestigious Tufts University in Boston, USA. She sincerely deserves your congratulations.
Each vacation, she joins the agency to immerse herself in checking your reservations, updating supplier rates or even meeting you on your arrival in Costa Rica. It's a way for her to make a bit of money and not get bored, because she can't stand sitting around doing nothing.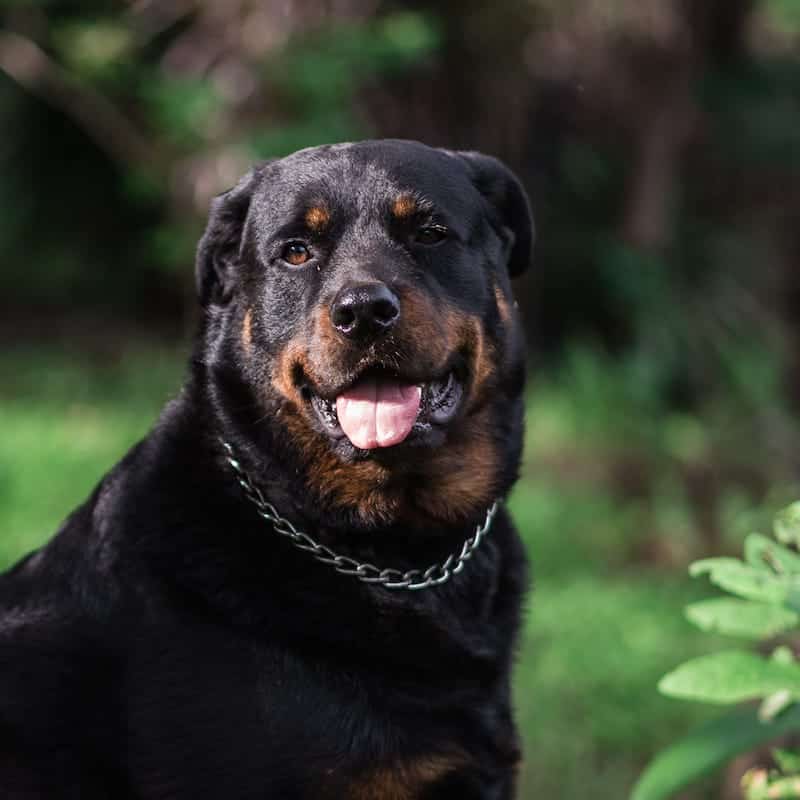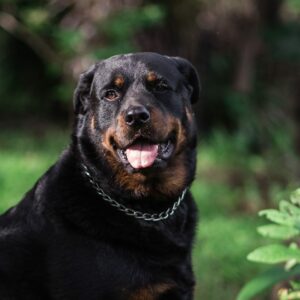 The company's mascot, he is to Costa Rica Découverte what toucans, monkeys, sloths, red-eyed tree frogs and jaguars are to Costa Rica: he's our emblem.
Beware of appearances, this big doggie is in fact a ball of affection, and a saving stroke of the tongue comes so quickly! Nothing escapes him: feet, legs and, above all, the rare foodstuffs that fall to the ground during our meals.
He single-handedly shatters the myth that the Rottweiler is a dangerous dog, as he fears fireworks, thunderstorms, water or the slightest leaf falling on his behind. Tweet is a big kid who makes everyone in the agency go gaga. In any case, he's got the Pura Vida thing down pat.
Our philosophy
Costa Rica Découverte is a travel agency based in Costa Rica, and only in Costa Rica! Passionate about this multifaceted, nature-loving country, our team has been preparing tailor-made trips to meet your expectations since 2008! Our success stems mainly from the way we listen to our customers, and the close relationships we build day after day with all the players in the tourism industry – hotels, guides and activity providers. All this to offer you the very best of Costa Rica. Always with customer satisfaction in mind, while respecting the local population and the environment. Pura Vida
---
Unlike tour operators, we prepare tailor-made stays without taking into account the discounts offered by hotels in Costa Rica.
To make your vacation in Costa Rica unforgettable, don't set off lightly.
Why travel with us?
Benefit from responsible expertise
– our perfect knowledge of the country
– our permanent presence in Costa Rica
– our personalized, up-to-date advice
– ecotourism-oriented tours, close to the local population, for an in-depth discovery of Costa Rica
– a discovery of Costa Rica, from the natural to the human side.
Travel with peace of mind and benefit fully
– complete freedom through individual, customizable tours
– a detailed Costa Rica travel guide, full of advice, tips and all kinds of escapades to make your dreams come true.
– a direct contact in Costa Rica, up to date with the latest news and developments in the country. No intermediaries for all your reservations
– the expertise of an agency established in Costa Rica since 2006
– sound advice on the pitfalls to avoid, the places not to miss or those whose reputation is overrated, thanks to our permanent presence on site
– 7/7 day assistance during your stay
– a personalized welcome on arrival.
Control your budget with :
– attractive prices on Costa Rica hotels, car rentals and activities
– a detailed quotation with no surprises
– a tour or stay in Costa Rica adapted to the seasons, your wishes and your budget to discover the true tropical nature
– simple and secure payment methods such as online payment by credit card, international bank transfer or partial payment in cash on arrival