The best kitesurf spots in Costa Rica
Costa Rica offers superb beaches and lakes for kitesurfing. Although there are no year-round kitesurfing spots, you can find places most of the time, with exceptional wind conditions from October to May.

Best kitesurfing spot: Bahia Salinas/Playa Copa, Guanacaste
Bahia Salinas, Playa Copal and Bahia Bolaños are all favorite kitesurfing spots in Costa Rica for the ever-growing kiteboarding community. The wind is sideways and good from November to May, although the peak season is from December to March.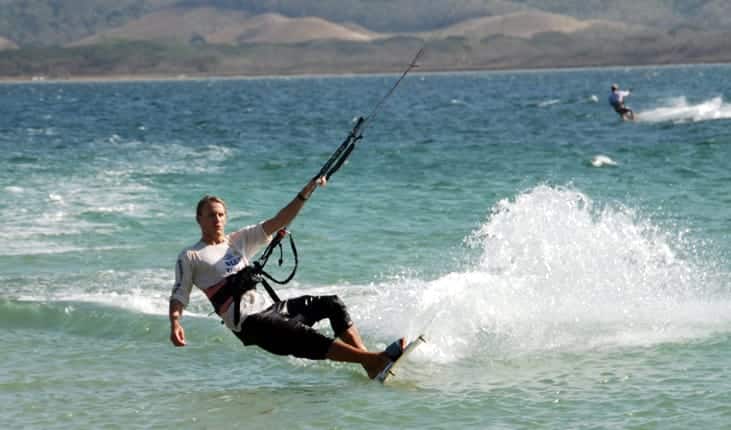 The bay has incredible marine life, including dolphins, tuna, sea turtles and the occasional whale: an incredible sight from your kite. Bahia Salinas is the northernmost bay on Costa Rica's Pacific coast, in Guanacaste. The northern part of the bay is actually part of Nicaragua, but the southern part of the bay, with winds entering at Playa Copal and Isla Bolaños, is on Costa Rican territory. Be careful not to fly into Nicaragua!
There are no buildings or structures on the beach, but two shaded areas are available for resting, sharing and hanging out with local kiteboarders and kitesurfing instructors. Raw shade under the trees mostly, although there are sometimes some facilities with hammocks, canvas to give shade. You can go up and down the crescent-shaped beach, although beginners prefer to launch from the north of the bay so that the waves and wind carry them to the south of the bay. It's easier!
It's a great spot to learn, just be prepared to walk the beach for a while until you learn to throw yourself into the wind. Remember, there's no water or food on the beach, so make sure you bring your own food or arrange with the hotel for them to bring some.
The beach is long, rocky (bring suitable footwear) and beautiful. You'll see a variety of wildlife, including sea turtles, nests, lizards and wild kitesurfers. You'll get a few choppy waves upwind near the beach, and waves of one or two meters without interruption. There are around 170 meters of flat water to the reef: perfect for wakestyle or a proper jump, including a sand/rock bar visible at low tide, which is ideal for experienced kiteboarders.
Kitesurf from the beach to a splendid island
If you launch from Playa Copal, it will take you about 5 to 8 minutes to kite to the island one kilometer away. You should plan this crossing in advance, but you can also rent a boat if non-kiters want to come to the island. It's well worth the detour! On the program: flat turquoise water on the island for incredible scenery and photography.
Beware: no fresh water, so come prepared if you want to stay a while. If you're a kiteboarder, you can make your way to the island and back, but beware of the wind.
In short, Bahia Salinas is one of Costa Rica's best kitesurfing spots. Next time, we'll tell you about another kitesurfing spot: Lake Arenal.