Stand Up Paddle: New trend in Costa Rica
Have you always dreamed of walking on water? Then we invite you to discover Stand Up Paddle, the sport that's going up and up! Or at least: gliding, gliding!

What is Stand Up Paddle?
Don't know what Stand Up Paddle is? Quite simply, it's a derivative of surfing. Stand-up paddling is a water sport that can be practised on the beach, lake or river. Standing on a board that's a little bigger and wider than traditional surfboards, and equipped with a single paddle, you'll be able to move at speeds that vary according to your agility and strength.
On the beach, you'll need to get to grips with the waves, while on the lake, it's more a question of speed or simply getting out and about and observing nature that will motivate you.
Accessible to all ages, Stand Up Paddle is used by top-level sportsmen and women as a cardiovascular workout, while beginners will quickly get the hang of it on white water or on the lake if the sea isn't nearby.
As you can see, whatever your age (from 12 upwards, however, with providers offering this kind of activity), your level of endurance or your agility, you can try Stand Up Paddle.
And for you ladies who are concerned about your figure and your health, Stand Up Paddle is ideal for giving yourself a mermaid figure. Very practical in the water!
Les origines du Stand Up Paddle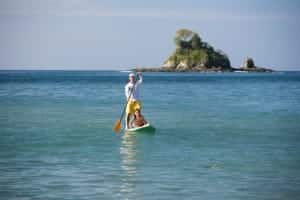 Although it was in Hawaii in the 50s that many surfers developed this practice, it seems that the technique is much older, and ancient engravings can be found in the Pacific islands. Some tribes, it seems, used a similar technique for fishing.
In Costa Rica, as in all surf-loving countries, Stand Up Paddle is beginning to establish itself as a discipline in its own right. The technique is quickly acquired and the sensations are immediate.
From Tamarindo to Playa Herradura, you'll find numerous surf shops offering introductory courses and equipment hire. There's also Lake Arenal for those who prefer calm waters, and of course Golfo Dulce in the south of the country.
This activity is ideal for those who want to enjoy a fun family sport.
Costa Rica Découverte will soon be testing the country's best spots for you, and will share its impressions with you. Stay tuned!