History and facts about the National Theatre
The National Theatre and its 120 years of history adorn this jewel, and we wanted to remember its historical mark and the curiosities that surround it. A jewel located in the capital, its beauty does not go unnoticed by any passer-by strolling through the Culture Plaza. Its spectacular architecture is a veritable historical tattoo, hiding many secrets about Costa Ricans.

The iconic and magnificent theater celebrates its 120th anniversary, representing the work, struggle and surrender of a people who pooled all their efforts to make it a reality. We've gone back in time to recall how it was possible to build this impressive architecture.
History of the National Theatre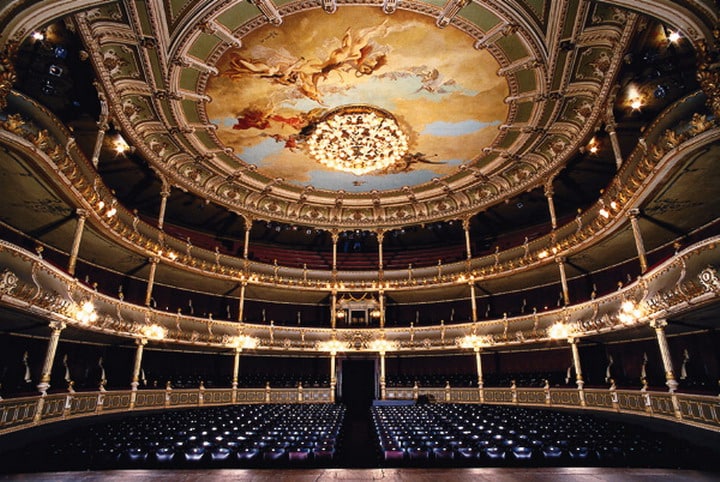 The National Theater was built after citizens demanded a new theater to replace the municipal theater, which had been destroyed by an earthquake. Also at that time, a famous opera singer named Adelina Patti refused to sing in small halls, which prompted with the support of the citizens the construction of what is today the Costa Rican National Theater.
Construction began in January 1891, when the decree of May 28, 1890 ordered its construction, declaring it a "national work". At the time, San José had no more than 20,000 inhabitants. The capital now has more than 100 times that number of inhabitants.
Unusual information
Built with a tax on coffee
To build a new theater in the capital, a very large economic sum was needed. A coffee tax of 20 centimes was therefore set for every 46 kilos of coffee to be exported, in order to raise 200,000 pesos (the currency used until 1896). The agreement stipulated that this tax would be abolished once the work was completed.
However, after a few months, the budget was exhausted and the work had not been completed (a classic, you might say!). As a result, on December 29, 1892, a new decree stipulated the continuity of the coffee tax.
Replacing the coffee tax
On May 20, 1893, a new decree was signed in which it was agreed to eliminate the coffee export tax and replace it with a new tax on imported general goods. This change was due to the fact that the tribute on exported coffee only taxed taxpayers and affected the country's main production, coffee.
The National Theatre declared a National Monument
The National Theater was declared a National Monument in 1965. It is the venue where artists from all over the world have performed, as well as national artists and state visits such as President John F. Kennedy 1963.
Style and works
Built with the finest materials, precious woods, iron, marble, gold and French glass, this emblematic site boasts remarkable sculptures and works of art.
On the façade, you can appreciate Pietro Bulgarelli's famous sculptures of dance, fame and music. Among the works of art that adorn it, they highlight sculptures of Spanish playwright Calderón de la Barca and German composer Ludwig Van Beethoven, created by Italian artist Adriatic Froli.
Inauguration
The inauguration took place on October 21, 1897, with Charles Gounod's opera Faust, performed by the French company Aubry.