GPS solutions in Costa Rica
GPS, Google Maps, smartphones, map, compass, wind direction… How do you find your way in Costa Rica?

GPS: The Chinese puzzle… in Costa Rica!
It's a real headache for all travellers: orientation. Costa Rica is a country where accurate, up-to-date maps, whether in paper or digital form, are rarely available. So it's a good idea to be as prepared as possible for Costa Rican roads and trails. When planning your self-drive tour, so as not to waste time looking for directions on the spot, it's important to prepare the way you're going to get around.
Throughout your trip, our agency will provide you with a map and itineraries to help you set off with peace of mind. We can also offer you the GPS that car rental companies can add to the vehicle. But they also have their limitations.
Road signs in Costa Rica are practically non-existent, so being prepared to travel in good conditions becomes an obstacle course. Watch out! And your smartphones…
Solutions
There are a number of solutions that can help you make the most of the roads and landscapes offered by this magnificent country, without asking yourself the question at every turn: "Which way do we go from here?"
More and more people – perhaps you – are using a smartphone (smart phone); iPhone, Galaxy S, Lumia, BlackBerry and so on. In short, a phone with a GPS chip that connects to the Internet. These little technological gems could help you on your travels in Costa Rica. But with so many products on the market, it's easy to lose a few drops of sweat!
Here are the complementary solutions we suggest.
The paid GPS solution – CityMaps2Go
Available on :
App Store for iPhone and iPad for 1.79 euros
Google Play for Android phones for $3.02
This mobile application is a real gem. Inexpensive, it enables the user to download maps in advance onto the application, and then use them in the country without the need for an Internet connection. Only the GPS chip (independent of connection roaming charges abroad) works for this application.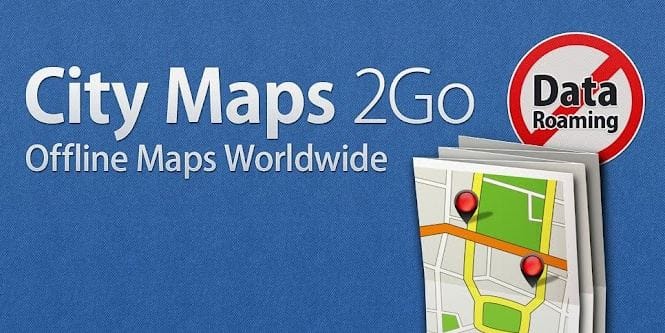 So basically, before you leave on your trip, you download the application onto your mobile. Then, via the app, you download the maps (they're all free) that interest you. The Costa Rica map is relatively complete.
When you're in the country, you'll have disconnected your 3G and data abroad to avoid the high surcharges levied by your operator. This application then allows you to geolocate yourself on the map previously downloaded to your phone and find your way around. It also suggests a number of points of interest on the map, such as hotels, restaurants and so on.
On the other hand, it doesn't offer itineraries like a conventional GPS. It's simply a map with a point moving across it. That point is you. You can search the map and the application will put a marker on it.
GPS
Car rental companies usually offer this option with a daily rental of the GPS unit. But you can also download GPS applications to your smartphone. Let's cut to the chase: we don't advise you to download these applications to your smartphones. Often expensive (from 8 to 45 euros on the App Store) and not very effective, these solutions are, for Costa Rica, not very recommendable. Maps are not updated. In such a fast-moving country, this is detrimental.
So you're free to download these apps, but we don't recommend it.
As for the GPS systems offered by car rental companies, we don't recommend them either. For a whole series of reasons.
First of all, their prices are exorbitant, with a deposit of at least 250 dollars (so if you lose it, it's going to hurt your wallet), and an average rental of 10 dollars a day. At some car rental companies, the GPS may be said to be free, but in reality, the price will be reflected in the overall price of the vehicle. In addition, maps are not properly updated. Hotels are poorly referenced on the maps. It must also be said that there are no addresses in Costa Rica… The task of map and GPS designers is therefore difficult. And finally, the ergonomics of these GPS units leave a lot to be desired.
We'd now like to introduce you to the two free solutions we recommend.
Free solutions – Waze, the social GPS and Google Maps
Available on :
The App Store for iPhone and iPad,
Google Play for Android smartphones and tablets
Windows Mobile
Blackberry, Beta version (but correct according to online reviews)
Required for the application to work:
A phone or tablet equipped with a GPS chip
A 3G connection in the country
This mobile application is in fact a special GPS in many ways. For a start, it's free. Not unusual for a GPS. It calls itself "social" because it communicates with the entire Waze community on the spot, in order to communicate important information about your route in real time: traffic jam, accident, black ice (unlikely in Costa Rica…), alternate route if it considers that this second route is faster, etc.
In Costa Rica, our friends with smartphones here use this application, which is the best and offers the best value for money. Hard to beat, you might say. Of course it is. But this is to say that it doesn't load the maps onto the phone when the application is downloaded onto the device, like other paid GPS (see above for this option). Instead, it downloads them as you plan your route, or as you travel in real time. This is important to know, as it means you'll need a 3G connection on your phone or tablet (see below for a solution to this problem).
Another tip: download it before you come here. Once you've installed it on your phone, make all the settings you want so that you can use it straight away when you arrive in Costa Rica.
Google Maps
Available on :
App Store for iPhone and iPad
Google Play for Android phones
Also a free application, it works in the same way as Waze, downloading maps as you travel.
Google Maps lacks the information-sharing aspect of Waze, but has the merit of having some of the most accurate maps of all. But don't rely 100% on what it has to offer. On the other hand, it can be used to support the itineraries we provide. What's more, Google maps are widely known, so there are no surprises when it comes to using them.
These last two applications, Waze and Google Maps, also offer the advantage of being able to be used once back in your country! However, they can only be used with an Internet connection. So you'll need a SIM card on the spot. Instructions below!
Being connected in Costa Rica
This part is aimed at those who would opt for the two free options previously presented (Waze and Google Maps) and those who would like to enjoy their smartphone as if they were at home.
With your smartphone, you most certainly have a package in your country that gives you virtually unlimited access to the Internet via 3G. But abroad, roaming charges are exorbitant for all operators, although they vary depending on which one you have. These charges are in fact extra costs for using your phone abroad. They can also be called (as mentioned above) roaming charges.
The solution is to buy a prepaid SIM card here in Costa Rica. This is called a "chip"; pronounced "tcheep". Really cheap (from 10 dollars) and available as soon as you arrive at the airport, we advise you to get one if you want to enjoy your smartphone with all its features. It will give you unlimited access to the Internet during your trip.
Important note: this assumes that your phone is unlocked. This means that your phone is authorized to receive other SIM cards. To find out, simply try putting a SIM card from another operator into your phone. If you can call with it, your phone is unlocked. If this is not the case, you'll need to go through your operator to ask for your phone to be unlocked. This legal procedure can take a little over ten days, depending on the brand of your mobile and your operator. We advise you to do this as soon as you can, for peace of mind when you travel, but also because an unlocked phone is more valuable because it can be resold to anyone, regardless of their operator.
The two operators we recommend in Costa Rica, both at comparable prices, are Kölbi (the incumbent operator) and Movistar. Both have very good coverage, with a slight advantage for Kölbi. They offer SIM, micro-SIM and nano-SIM cards.
So, we hope this information will give you a clearer idea of your options for orientation in Costa Rica, and everywhere else! 🙂
Keep in mind that at your arrival, we will provide one SIM card!!