Barra Honda National Park
Barra Honda National Park in Guanacaste mainly attracts caving enthusiasts. However, if you're a beginner, the park is still accessible and well worth a visit. Birdwatchers and photographers are also rarely disappointed by the detour.
The caves of Barra Honda National Park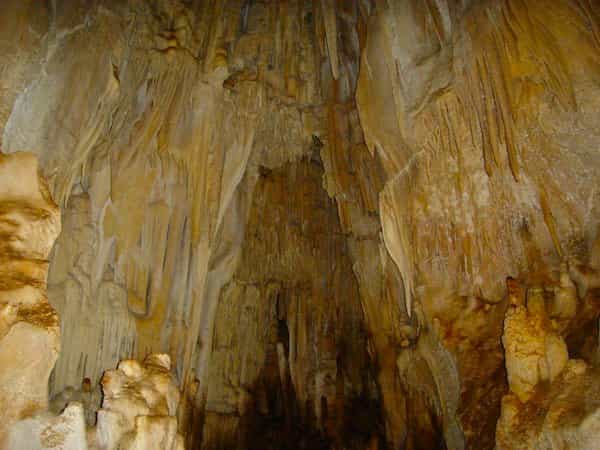 The Barra Honda caves date back to the end of the Cretaceous and Paleocene periods, i.e. between 70 and 90 million years ago. They are former coral reefs that were exposed to the air as a result of tectonic movements.
The vertical entrances, somewhat difficult to negotiate, are an experience to be savored. Guides (obligatory) will take you on a tour of this magnificent underground world. Reservations are essential.
The deepest cave is 240 m and home to thousands of bats. In 1960, the first explorers thought they'd discovered a volcano, so loud was the noise of the bats that the powerful fumes resembled gas emissions.
The 19 caves explored to date are all separated from one another. No communication has been discovered. The most interesting for their depth or natural decorations are Terciopelo (62 mt), Trampa (110 mt), Perico (21 mt), Pozo (110 mt), Pozo Hediondo (60 mt), Sima Ramón Canela (35 mt), Pozo de los Seis (220 mt), Santa Ana (240 mt) and Nicoya (30 mt).
Only two caves are open to the public: Terciopelo, whose access is more difficult, but whose 3 chambers are among the most beautiful on the site. La Cuevita, with just one room, is open to visitors aged 12 and over, and is recommended for the less physically fit. In the 2 halls, you'll discover spectacular stalagmites and stalactites.
The limestone formations, some of which are very rare, offer a fantastic spectacle, especially the white room, made of calcite, whose light is dazzling.
The open-air park
Trails lead to the various caves and through the dry tropical forest. A viewpoint overlooking the Guanacaste plain at 423 m gives views as far as the Gulf of Nicoya, Isla Chira and the surrounding hills.
The Fauna
You're sure to come across iguanas, coatis, anteaters, raccoons, capuchin monkeys and howler monkeys. Also coyotes, ocelots, jaguarondis, white-tailed deer, peccaries…
Birdwatchers will be delighted by the thousands of birds. Barra Honda Park is located close to Palo Verde Park, a wetland area, and the Tempisque, the region's great river. The most easily observed species are the guan egret, great blue heron, little egret, cattle egret, ash hawk, peregrine falcon, orange-fronted conure, white-fronted Amazon, Guatemalan screech-owl, cinnamon ariana, motmot, light-billed woodpecker, white-faced jay, chignole sparrow, scarlet macaw and northern caracara.
The Flora
The trees are mainly jobo el ron-ron (Astronium graveolens), el tempisque or ironwood, el laurel or laurel tree, el indio desnudo or red gum tree, el guachipelín (Diphysa americana), el cenizaro or samanea, el guanacaste, el roble de sabana, el corteza amarilla, el pochote, el cocobolo, el cedro amargo, el ceibo and so on.
However, due to a lack of resources, the park's flora and fauna have not yet been precisely defined.
This is one of the few parks where you can find a place to sleep.
Very little visited, we recommend the detour as it combines caving and ornithology. The tour lasts around 4 hours and a good level of fitness is required.