Marino Ballena National Park
Located at the junction of the Central and South Pacific, Marino Ballena Park aims to protect marine species, in particular the whales that come here twice a year to give birth to their young before migrating to the cold waters of the polar regions.

The park must have been designed with them in mind. The tombolo at Punta Uvita is a unique geological formation created by the deposition of sand and sediment that resembles a whale's tail. At low tide, it forms a pathway to the sea more than a kilometer long. A walk not to be missed! Rock formations such as Whale Island and the Three Sisters are home to a rich underwater fauna of lobsters and barracudas.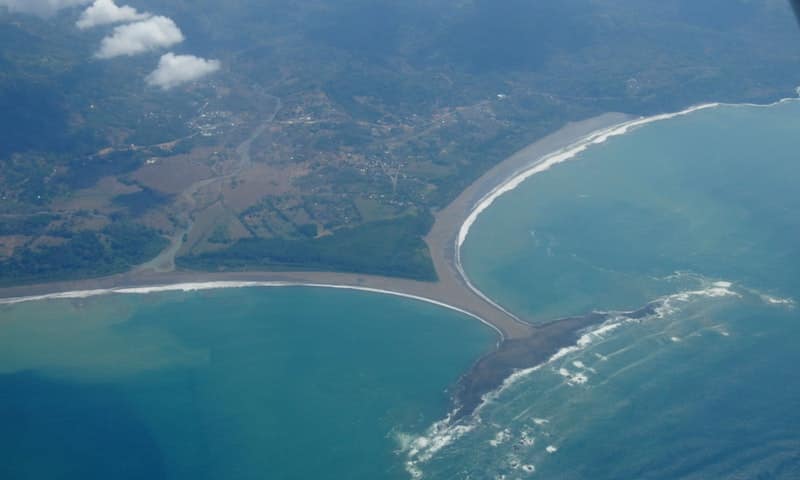 A coral reef with over 18 species also forms part of the marine park. Playa Arco is a small beach of pristine white sand, protected by primary coastal forest and accessible only at low tide, as you have to pass through a small cave flooded at high tide to get there.
Wildlife in Marino Ballena Park
For thousands of years, humpback whales have chosen the Costa Rican coast as a stopover during their great migrations. From August to October, these are the southern hemisphere whales, and from December to April, those from the northern hemisphere. Mothers come here to give birth and raise their calves for 2 to 3 months, so that they can then set off on their long journey. Pilot whales and a few orcas have also been spotted.
Common, bottlenose and spotted dolphins are present year-round in the region.
Green and olive ridley turtles are also present from July to November. They come here in large numbers to lay their eggs. Several associations are in charge of their protection.
The mangrove is a sanctuary for birds such as herons, frigate birds and pelicans. The terrestrial part is essentially made up of beaches and hosts iguanas, capuchin and howler monkeys and agoutis.